RAPID WEB APP DESIGN COURSE
This FREE email course will teach you how you can design web apps in just 5 steps that people will love to use!
I won't send you spam. Unsubscribe at any time.
WANT TO DESIGN BETTER WEB APPLICATIONS FAST?
People are reluctant to invest in web applications
Even after investing they keep asking for more features
The web application design never meets their needs
By the time you design the needed features, its too late
WHAT'S INCLUDED IN THIS COURSE?
This course will teach you how you can rapidly design web applications that work exactly the way people want it to work.
Here's What You Will Learn Inside The Course:
Before diving into the tactics, you'll want to understand why designs of most web applications fail and how you can ensure that your web application design meets the needs of the users.
These email lessons are where you will learn the secrets on how large enterprise level web applications get designed so that people are happy to use them and pay for them.
Throughout the lessons you will learn about the most critical element of web application design. It is not UI Design or UX Design. This critical element is the reason why most of the web applications do not work as the users want it to work. Get this right and your web application will stand apart from it's competition.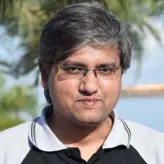 WHO AM I?
I am Abhijit Rawool. Founder of Web App Huddle. I have been involved in designing enterprise level business web applications for more than a decade now!
WHO WON'T YOU BENEFIT FROM THIS COURSE?
This course isn't for everyone. This course focuses on how to conceptually design web applications. If you are looking for a course to learn just UI or UX Design then this course won't help you.
I won't send you spam. Unsubscribe at any time.